Innovation & Technology Fund From TCFS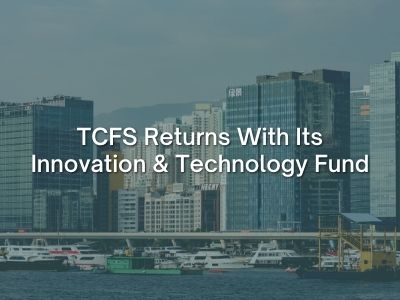 Once again, the Guangdong-Hong Kong Technology Co-operation Funding Scheme is back with its innovation and technology fund. First launched almost 16 years ago, the Guangdong-Hong Kong TCFS has since been bridging the gap for technology enthusiasts to conduct their respective research and development. TCFS was introduced as a corporate initiative to stimulate collaboration on research and development among universities, research institutes and technology enterprises. The Shenzhen Municipal Government has also joined forces with the TCFS.
Project Categories in TCFS
The Innovation and Technology Commission (ITC) announced the reopening of the funding scheme applications between 24 August 2020 and 23 October 2020.
According to ITC, there will be three project categories in the scheme:
The first category- comprises projects funded by the Innovation & Technology Fund and will be open to Hong Kong institutions.
The second category- covers projects sponsored by Mainland authorities and will be available to Mainland institutions.
The third category- jointly funded by the Guangdong and Hong Kong governments or the Shenzhen and Hong Kong governments; the fund is open to those projects jointly conducted in both Hong Kong and Guangdong or Shenzhen. Hong Kong and Mainland institutions must submit concurrently their applications to ITC and the relevant Mainland authorities respectively.
The maximum project duration is 24 months. Aside from that, the ITC also further stated that the third category will cover a total of 37 technology areas and will be accepting applications from Mainland institution and Hong Kong. The areas are crucial and relevant to the industries and consequently will upgrade the economic development in the Greater Pearl River Delta region.
How Does the Assessment Work?
The assessment starts with a preliminary screening of the applications by the ITF Secretariat. If the situation necessitates, an individual application might need to be subjected to an external review. With the ITF Secretariat's assessment and external reviews (if present), the application will then be sent forth to the Innovation and Technology Fund Research Projects Assessment Panel. The panel will then examine the applications in accordance with the assessment framework. On a side note, under the third category, ITC and Guangdong/Shenzhen authorities will vet the applications separately following each own criteria. Only both parties' third category applications approved will the applicants be funded.
What Can the Funding Be Used for?
Once the proposal is approved, the disbursement of grants will be made in instalments to the lead applicant. Received project funds must only be used to bear the costs of the workforce, new equipment and other direct costs, strictly for the purpose of carrying out the project. The project funds expenditure must also be utilised within the given timeframe of the project.
For more information regarding the application, click here.