ETNet Recognises 3E Accounting as Asia-Pacific First Robotics Accounting Firm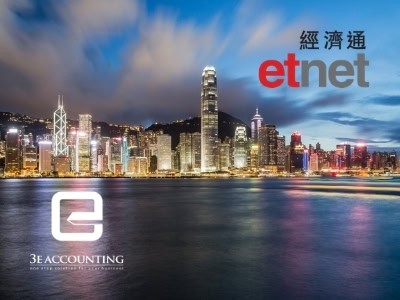 3E Accounting has been featured on ETNet as the leading robotics accounting firm to deploy cutting-edge robotics technology in the Asia-Pacific region. This is an outstanding achievement for 3E Accounting's newest outpost in Hong Kong which opened only 6 months ago in July 2020. The firm would like to express gratitude for the excellent coverage from ETNet and hopes to maintain this upward momentum.
Digital Transformation Powers 3E Accounting
Digital Transformation made possible the successful Virtual Opening of 3E Accounting Limited in Hong Kong back in July 2020 with distinguished guests from both the financial hubs of Singapore and Hong Kong, enabled by technology tools comprising video-conferencing platforms, Cloud Computing and Google Workspace.
Through Digital Transformation, 3E Accounting is capable of digitally processing company incorporation, accounting, tax, human resource and corporate secretarial services for clients. For example, a company incorporation process which at one time requires two days has been cut down to within an hour with the aid of technology.
Extensive Investment in Technology
3E Accounting has devoted over $2.0 million in research and development of automation robotics. The firm has made a giant leap in technology development despite not having venture capitalist funding. New technology initiatives, for instance, the Financial Report Robot and the Robotic Process Automation (RPA) Robot save 90% of the time on tasks completion, empowering the firm to support a bigger client base and become a robotics accounting firm that is fast-growing and future-ready in this competitive market.
The Future Is Robotics
Through embracing the emerging robotic technology, 3E Accounting's goal as the firm celebrates its 10th anniversary in 2021, is to build a future accounting and professional services firm where intelligent robots are utilised to perform tasks and collaborate with human co-workers. The firm also aims to aggressively expand its current client base and product offerings.