This post is also available in:

繁體中文 (Chinese (Traditional))

简体中文 (Chinese (Simplified))
Public and Private Transport to Travel in Hong Kong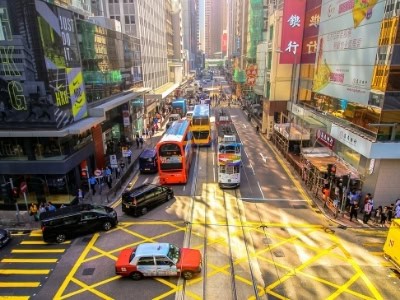 Hong kong is in a class by itself. According to specialist surveys and news agencies, it is one of the world's most popular tourist destinations, Asia's best shopping destination, and China's most expensive capital. Hong Kong has the world's best metro system, as well as many other notable features. Travel in Hong Kong has been made so simple with their vast modes of transport that are available in the city.
Taxis, ferries, trains, buses, and trams are all options for getting around Hong Kong. The city boasts one of the safest, most effective, and frequent public transportation systems in the world and the Octopus Card, a convenient payment tool.
Octopus Card
Even if you're just staying for a few days, an Octopus card is a must-have. The add-value card helps you ride cashless on all major public transit systems and can also be used in convenience stores and shops.
Visitors can choose from two types of Octopus, both of which can be quickly replenished: Tourist Octopus (Sold version). It is available for HK$39 without a deposit and features an iconic Hong Kong style. It is an ideal souvenir that you can use again when you return to Hong Kong. On-Loan Octopus with a refundable deposit of HK$50; if you return the On-Loan Octopus within 90 days of the date of issue, you will get a refund handling fee.
Hong Kong's Railway System: The MTR
The fast and efficient Mass Transit Railway (MTR) system makes getting around Hong Kong a breeze. This extends to all of the territory's major districts and stops along the border with mainland China (Lo Wu Station and Lok Ma Chau Station). The MTR also operates a light rail system in the New Territories that links Yuen Long and Tuen Mun and an intercity train service to Mainland China.
Buses and Minibuses
Buses are abundant, spacious, and air-conditioned in Hong Kong. The double-deckers are especially common, as they provide excellent views of the surrounding city from the top deck. Fares are charged at the time of boarding. They are based on the distance travelled. If paying by cash, exact change is required. In Hong Kong, You can also use Octopus cards on all buses.
Minibuses are small buses that can accommodate up to 19 passengers. Green minibuses run on a set route and charge a set fare. Fares are charged at the time of boarding and are measured based on the distance travelled. If paying by cash, you need exact change. All green minibuses accept Octopus cards.
Red minibuses run on routes that aren't always fixed, and passengers can board and disembark at any point along the route unless special restrictions apply. When riding a red minibus, the Hong Kong Asfare is charged as you exit, and the driver will normally provide change for small bills. When a seat belt is available, passengers must use it.
Trams
The historic street trams of Hong Kong still run through the Western District, Wan Chai, Happy Valley, Causeway Bay, and North Point on Hong Kong Island's north corridor. Since 1904, these double-decker streetcars remain an accessible, inexpensive, and enjoyable mode of transportation.
Each tram ride costs the same flat fare regardless of the distance. If you pay by cash, you need exact change. All trams accept Octopus cards. You must enter at the back of the tram and then pay the same fare at the front when leaving.
Taxis
Taxis are abundant in Hong Kong, with the exception of some very remote areas. You can summon them by phone or hail them on the street (except in restricted areas). They all have a meter, reasonable prices, air-condition, and spotless. Taxis in Hong Kong are divided into three groups based on their colour.
Each group represents a different geographical region. To and from Hong Kong International Airport and Hong Kong Disneyland, all taxis are available. Except for Tung Chung Road on Lantau Island and the entire south side of Lantau Island, red taxis are available in Hong Kong. Only Green taxis serve the New Territories. On Lantau Island, blue taxis are the only mode of transportation.
Taxis may usually be flagged down on the street, but they are unable to pick up or drop off passengers in some restricted areas. Opting for a taxi queue at a hotel or a taxi stand is often a smart idea. Taxi Drivers must use Taximeters, and passengers must pay the same fare based on the taximeter. Often submit a receipt that a printer has printed. The taxi driver has to include a handwritten receipt if the system is not working.
All taxis have regulations, and taxi drivers must show their taxi driver identification cards on their dashboards at all times. When a seat belt is available, passengers must use it. Taxi fare details, including surcharges for baggage and tunnels, will be displayed on the inside of the taxi. Request a handwritten version if you can't read the price, taxi number, or fine print on the receipt.
If you have any issues with a Hong Kong taxi, such as alleged overcharging, make a note of the taxi driver's name and license plate number, which can be found on the taxi driver identification card on the dashboard. Then call one of the numbers listed below to file a complaint.
Ferries
Hong Kong, as a coastal city, runs frequent ferry routes linking Hong Kong Island, Kowloon, and the Outlying Islands. The cross-harbour ferries between Hong Kong Island and Kowloon are fun to travel between the two islands. When sailing between Central and Hung Hom or on the Star Ferry routes, take in the breathtaking harbour views.
The Star Ferry transports passengers between Hong Kong Island (Central and Wan Chai) and Kowloon in a charming vessel (Tsim Sha Tsui). It provides views of both sides of the harbour and serves as both a tourist attraction and a means of transportation. Fares differ marginally between the upper and lower decks, weekdays and weekends, and are charged at the boarding barriers.
Passengers can pay with their Octopus Card or by purchasing a token from the pier's machines with cash. The key Outlying Islands are served by ferries that depart from Hong Kong Island's Central Ferry Piers. Most routers have two types of ferries: regular ferries and slightly more costly fast ferries.
Uber
Uber is also available in Hong Kong if you would opt for a more private and direct transport experience. However, although Uber can be used in Hong Kong, many drivers operate illegally because they have no hire car permit. Insurance coverage might fall into the grey area when using Uber, and an accident happens.
The fundamental utility of modern transportation networks is often exposed blatantly. It simply attempts to bring people from one place to another. With its trams and Star Ferry, Hong Kong offers something even more subtle: modes of transportation that are fully integrated into the city they represent.
Using public transport in Hong Kong is equal to experiencing the city itself through its colourful history and historic transport systems that exist until today. Hong Kong ensures that tourists and locals can go around as easily and conveniently as possible while allowing them to experience the beauty of the city. Travel in Hong Kong is definitely something that you shouldn't miss out on.