This post is also available in:

繁體中文 (Chinese (Traditional))

简体中文 (Chinese (Simplified))
New World Order – Set Up a Home-based Business in Hong Kong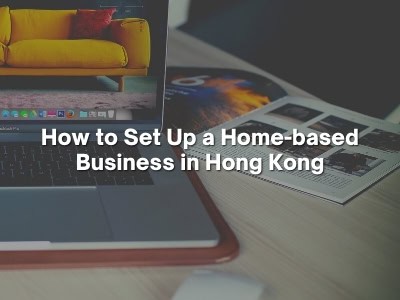 Working from home is trending, and 3E Accounting has some useful tips on how to set up a home-based business in Hong Kong.
The global pandemic has impacted many aspects of our lives, and the most profound is how we do business. Working from home has been an enforced reality for most of this year. If this is a dream come true for you, why not make it permanent? Here's how to set up a home-based business in Hong Kong.
Business Brand You
Hong Kong is one of the most business-friendly places in the world. Brilliant government incentives backed by world-class infrastructure and low taxation are all great reasons to have your business here. Hong Kong's key industries include production and financial services, logistics, trade and tourism. Coupled with its strategic location, Hong Kong is considered a hub of commerce and industry.
It's sound advice to always start any business activity with a solid business plan. Due diligence requires research on market segmentation, customer and competition as well as projected financials. However, the home-based business has a few extra considerations. These include:
Work arena: have a designated workspace that facilitates and imitates an 'official' feel. This will encourage motivation to work, help develop a routine and inspire your work.
Setup: ensure that you have the essentials for your specific type of work. For example, computer-orientated work may need an ergonomic outlay; food production may need kitchen space with kaizen principles, etc.
IoT: you will need to invest in all things IT. This includes laptops and necessary software, service providers with the best internet speed, multifunction printers, website design and development to market your business, etc.
Inspiration Nexus: great ideas are inspired – figure out what's your trigger. This may be a whiteboard and coloured markers; a post-it wall; a window seat with a view; a foosball table; etc.
Once you're ready with these, it's time to set up your home-based business in Hong Kong. Not all companies need to be incorporated – services such as freelance writing or bookkeeping can be done without licensing etc. However, all income is subject to tax regulations, so irrelevant of your type of business, do get your tax registration done on the HK Inland Revenue.
Some businesses do require company incorporation – for example, if you run a home-based food or property agent business. To incorporate your company, you will need to register online with the HK company registry. Company structures include:
Sole Proprietorship or Partnership
Private Limited Company (PLC)
Public Limited Company (PC)
Company Limited by Shares or Guarantee
Branch or Representative Office
For a home-based business, a sole proprietorship or partnership might be the most suitable. These types of legal structures are relatively easy to set up and require minimal investment. Your business will also need a bank account. Depending on the nature of your business, a corporate bank account may be best, especially if the volume of income is substantial.
Most business activities in Hong Kong do not require a license. Those that do, need approvals from the Trade and Industry Department. For example, an education business or tuition centre will need approval from the Education Bureau. Event management activities also require specific permits from numerous departments. As such, it is advisable to engage business consultants such as 3E Accounting to help with the process.
A Professional Start
The future of business may be home-centric, but that does not exclude the professionals. Consultants such as 3E Accounting are a necessary feature of any business that is looking to succeed. From incorporation to licensing to website design – set up a home-based business in Hong Kong, the professional way with 3E Accounting. 3E Accounting's industry expertise ensures that your business will get the world-class professional service that it is entitled to.
Contact 3E Accounting today and enjoy the freedom to build your business your way.