Enhanced Talent Admission Regime Attracting Skilled Workforce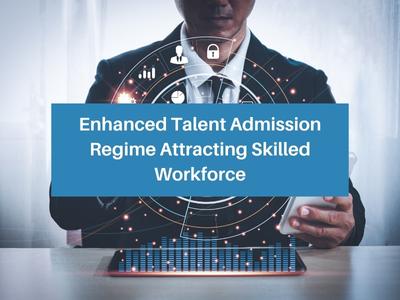 An enhanced talent admission regime in Hong Kong is working at attracting skilled workforce as the region emerges from the COVID-19 pandemic.
Hong Kong introduced the Top Talent Pass Scheme to attract top talent. Within half a year, it received at least 84,000 applications. Out of that number, 49,000 have been approved.
Attracting More Than 150 Enterprises From Around the World
Hong Kong's Office for Attracting Strategic Enterprises has met with more than 150 enterprises within the last 6 months. These enterprises are from all over the world. As part of its enhanced talent admission regime goal, it is targeting to attract at least 1,300 companies to set up and expand their operations to Hong Kong by 2025.
Hong Kong has consistently had efforts to reassure their trading partners of its commitment to regional economic co-operation. To entice top talent, the Government is placing emphasis on the uniqueness of establishing a base in Hong Kong. Primarily, the advantage is that it is close to China.
Strengthening International Ties
Hong Kong is making strides in strengthening its international relations as part of the ongoing commitment to keep attracting top talent via the enhanced talent admission regime. Particularly with the Middle East, a key area for the Belt & Road Initiative that was launched 10 years ago.
The Future Investment Initiative Institute in Saudi Arabia recently confirmed that it will be hosting the inaugural PRIORITY Asia Summit in Hong Kong this December. The Dubai Chamber of Commerce has also announced its new office establishment in Hong Kong after 13 MOUs and co-operation letters of intent were signed.
Investors from Thailand and other economies have also expressed a keen interest in investing in Hong Kong. As a cosmopolitan city and one of the world's freest economies, it is important for Hong Kong to strengthen these relationships and highlight its experience as an international city. Hong Kong has always championed multilateralism and accords high priority to establishing partnerships amongst different economies.
A Focus On Developing Its Strengths
The enhanced talent admission regime alone is not enough to maintain and attract a skilled workforce. The city needs to unleash its potential in a variety of budding sectors. Hong Kong signed the Innovation & Technology cooperation agreement with Guangdong, Shenzhen, and Chongqing this year.
It has also signed an agreement with the Mainland's Ministry of Science & Technology in March to expedite its development as an international IT hub. Hong Kong's 14th Five-Year Plan cements its status as an international financial centre and it is only primed to continue growing.
Looking to Hire the Best Talent for Your Firm?
Empower Your Company's Success in Hong Kong's Flourishing International Hub! Partner with Us and Leverage the Enhanced Talent Admission Regime. Unleash Your Company's Potential and Secure a Prosperous Future. Explore Our Services Today!