This post is also available in:

繁體中文 (Chinese (Traditional))

简体中文 (Chinese (Simplified))
Understand the Jurisdictions Setup Requirement Before Proceed Your Pakistan Company Registration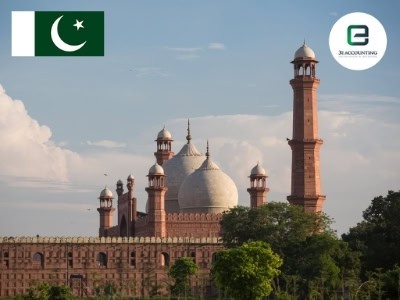 Pakistan has a population of around 207 million people and a GDP close to $305 billion. The best industry prospects for business opportunities are consumer goods, power generation, renewable energy, telecommunication equipment and services, franchising, waste management, and health care.
Pakistan Company Registration Procedures
It takes one week to complete company registration in Pakistan and 17 days total when including pre-registration and post-registration procedures.
The procedures for Pakistan company registration are as follows:
Obtain PIN for company registration:
The Securities and Exchange Commission of Pakistan (SECP) allows for online company registration on their website. Applicants can create an account by inputting their personal and company details. They will also need to set and obtain a PIN number which will be required for company incorporation.
Reserve the company name
This can be done physically by submitting a name reservation form at the SECP, or online through their government website. Applicants can check the company name availability (website also includes a list of prohibited names), and submit a combined application for name reservation and company incorporation together at the same time.
Register the company either online or in-person
Registration can either be completed online or in-person at the SECP. Applicants can complete a single online procedure for user registration, name reservation, company incorporation, and notification of the appointment of CEO on the new e-Services government website.
Register with tax and labour department, register employees for social security and old-age benefits
Starting from 2019, companies can also choose to register with the Excise & Taxation Department for tax purposes, the Labor Department, the Sindh Employees Social Security Institution (SESSI), and the Employees Old-Age Benefits Institution (EOBI), all within the Pakistan company registration application.
The online system will generate pre-filled applications that need to be reviewed by applicants and submitted through the same system in a step-by-step process.
Make a company seal
According to Article 23 of the Companies Act 2017, every company must have a common seal that has the company's name engraved on it in legible form. Share certificates in physical form must bear the company seal.
In addition, a company seal is required in practice to open a bank account. It will also be requested by business counterparts and public agencies.
Open a bank account for tax registration
A hard copy of the registration certificate is typically required by most banks in order to open an account.
Apply for a Sales Tax Registration Number (STRN)
The company is legally required to register for sales tax by submitting the application form STR-1 at any tax facilitation counter at the nearest Regional Tax Office (RTO). After verification, a registration certificate bearing the registration number will be mailed to the registered company.
Contact Us Today
If you are interested in company registration in Pakistan, then 3E Accounting is the right choice for you. Our effective and high-quality work will make sure that the results are quick and thorough.
Contact us today and let us take care of all the procedures so you can devote your valuable time to achieving what you deserve.