Abigail Yu Appointed As The Business Successor And New Director of 3E Accounting Group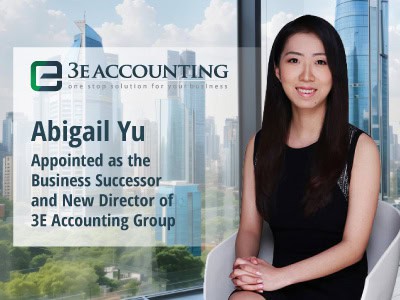 Singapore, 28 October 2021 – 3E Accounting is pleased to announce that Abigail Yu has been appointed as the new successor and director of the 3E Accounting Group. She will take over the position and duties of the former Director, Lawrence Chai.
New Era for 3E Accounting
The appointment of Yu marks a new era of growth for the company. Yu's exceptional leadership, extensive experience, and audacious ambition make her the perfect candidate to drive further success for 3E Accounting and take it to new heights.
As a graduate from the National University of Singapore in the Communication and New Media field, Yu is extensively trained and well-versed in business communication. Her areas of specialization include crisis management, financial communication, and communication management. In her new role as Director, Yu will bring a unique blend of hands-on expertise and strategic insight to help the company better understand customer performance and emerging market trends.
Within a short span of Yu's appointment, she has successfully positioned 3E Accounting as the first robotics accounting firm in Asia-Pacific that is driven by Machine Learning (ML) and Artificial Intelligence (AI) and branded the firm as a pioneer of the accounting industry to span robotic business automation (RPA); and a swift-adapter amidst evolving challenges in COVID-19.
These reinforced 3E's vision as the world's leading service provider for staying ahead of major market developments and other competitors. In her new role, Yu will oversee the executive leadership, lead operations and be the strategic director for the entire 3E Accounting Group. This includes the company's IT solution, public relations, and digital marketing functions to drive the overall capacity and success.
An Ideal Leader for the Perfect Company
Yu's dedication to excellence, passion for innovation, and acting as an excellent source of inspiration make her an ideal leader to steer 3E Accounting to greater heights. She has undoubtedly proven in the past that she has a knack for capitalizing on the company's strengths while exploring new avenues of growth and innovation at the same time.
Yu's commitment to constantly replenishing the current systems with more cutting-edge solutions will remain at the forefront of her responsibilities as the new Director of 3E Accounting. Moving forward, she will continue developing new strategies for enhancing the current positioning of 3E and alleviating its standing so that it can constantly stay ahead as a market leader in the accounting field.